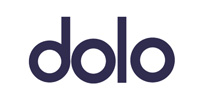 Dolo
Date de création : 1952
Activité : Oral and dental care and hygiene


Relief of minor mouth sores for the whole family
The Dolo line was born in 1952, with the launch of its flagship product, Dolodent.
Ever since, the goal of the trademark has been to offer high-quality products that meet the needs of the whole family in terms of oral and dental health and hygiene.

Sensitive gums, mouth ulcers and minor lesions... from childhood to adulthood, mouth sores can be troublesome and cause disruptions in everyday life. The products in the Dolo line, formulated with natural active ingredients (propolis, valerian root, honey...) bring relief for all sorts of oral and dental problems, starting in early childhood.

Put a smile back on your face with Dolo solutions!